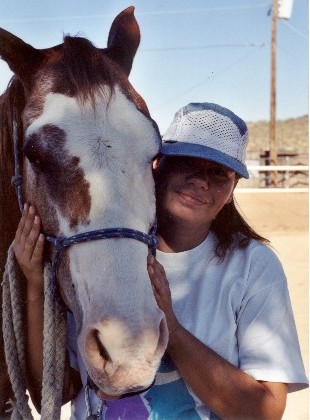 Michele Carrero CN, CEMT, Herbalist
Welcome to Wholistalife! I'm Michele and I am a Certified Nutritionist, Herbalist, and have been an Equine Physical Therapy & Bodyworks Specialist since 1999. I am a graduate of the Arizona Institute of Equine Massage Therapy and Kinesiology. I am also certified in Equine Acupressure from the Southwest Institute of Healing Arts.
I specialize in Equine Massage, Acupressure, Shiatsu, Myotherapy, Structural Balancing, Neuromuscular, & Equine Relaxation Therapy™ (E.R.T.). I developed E.R.T. years ago to relax and calm the horses I work on so that they can get the most out of whatever therapy they receive.
Hoof Care & Hoof Balance are also a big focus of mine having been a barefoot trimmer for over 20 years. I know how important it is for the hooves to be in proper balance, cuz they can influence the overall soundness of the horse. They can also cause all kinds of body soreness and lameness when out of balance, so they are a key focus in my evaluations.
I also use Herbal & Nutritional Therapy along with Specialized Supplements to improve the overall health of Horses, Dogs, & Cats. This includes a strong focus on their diet and gut health since issues with these can contribute to many of their problems, and interfere with their recovery. Be sure to check out my complete line of Animal Health Products at shop.wholistichorseanddog.com.
Do you have any questions? Please email me for quick answers at,
service@wholistichorseanddog.com